This post may contain affiliate links. I may receive a small compensation when you click on such links at no cost to you. Read my disclaimer for more info.
Last Updated on October 23, 2022 by Yetty Akindele
Death is something we can never be prepared for, whether it's expected or unexpected. However, what makes an unexpected death worse is the legal troubles that follow if the deceased individual hasn't left a Will.
Countless legal battles, tensions between family members, and fights between the division of assets are just a few of the problems that come when there's no Will. Nonetheless, more than half of Canada's population doesn't have a will.
Why so? Probably because a lot of people associate creating a Will as a difficult task. Just the thought of our death is enough to make us squirm, let alone to imagine having to prepare for it. You'll also have to get lawyers involved, and it can be a lengthy, expensive, and tedious process.
This is where Epilogue comes in. Epilogue is an online platform that allows Canadians to create their legal Wills fast and in an easy manner. Many such platforms have been popping up in recent years, to help and encourage people to create Wills without having to spend a fortune.
Below, I've given my detailed review on the services that Epilogue offers.
Epilogue is a Toronto-based company that can help you create a legally binding Will in just 20 minutes. It was created by co-founders Daniel Goldgut and Arin Klug, who collectively worked as estate planning lawyers for over a decade. Hence, you can rest assured that Epilogue has a foundation backed by solid experience in estate planning.
Epilogue was created with the primary aim of making the process of creating a Will easier. This service makes it easy to create a Will and uses minimal legal jargon, so you won't get confused. It's also affordable compared to having to hire an estate lawyer.
Additionally, Epilogue also allows you to create Powers of Attorney (POAs). These documents enable you to give another person the authority to make decisions on your behalf if you become incapacitated.
There are two types of Powers of Attorney; a Power of Attorney for Property and a Power of Attorney for Personal Care. The former allows people to make decisions such as paying bills and filing taxes on your behalf. The latter allows people to make health care decisions for you if you become incapacitated.
#Have You seen my list of 18 of the Best Canadian Personal Finance Decisions?
How does Epilogue work?
This online service is actually pretty straightforward to use. As I stated before, it takes just 20 minutes to create a legally binding Will with Epilogue. So, you can get it all done in just one sitting. However, you can also choose to create your Will over multiple sessions. The website will save your progress, so you can easily pick up wherever you left off. Additionally, you can always make updates anytime.
Before you set out to use Epilogue's service, you'll need to have some information ready with you. This is basic stuff you need to know before making a Will. As an example, if you have children who are minors you will need to make a decision about who becomes their legal guardian(s) upon your death. Similarly, you will have to make decisions relating to how your estate will be shared amongst, family, friends, or even to charity.
Here are two essential things you need to know before you sit down to create your Will:
Basic information about your loved ones, such as full names and dates of birth.
A general sense of your assets and debts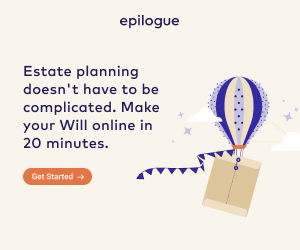 You should also have a general idea of who you want the executor of your Will to be, how you want to distribute your assets, if you want to donate any money, etc. Without this, it's futile to try and create a Will. Once you have a general idea of how you want things to go, you can follow these steps to create a Will on Epilogue:
Complete Epilogue's simple online questionnaire
Generate your Will (which takes less than 30 seconds)
Print it out and follow the signing instructions included with your Will
That's it, three easy steps.
Do note that to make your Will legally valid, you must be in the presence of two witnesses when signing it. The witnesses also have to sign the Will. You also need to have an account on the site to make your Will, and you should have made your payment too. You can also opt to get the Will mailed to you for a small fee in case you can't print it out yourself.
Epilogue Pricing
I can't deny that Epilogue Wills though not the cheapest online Will platform in Canada, it is still hundreds of dollars cheaper than countless consultations with an estate lawyer. Using this service will cost you a fraction of what lawyer's charge.
Here are the four pricing options available:
1. Individual Pricing
Will Only – $139
Custom Will
Funeral + Burial Wishes
Free Limitless Updates
Will and Powers of Attorney – $179
Everything under 'Will Only'
Appoint someone to handle your finances if you are unable to do so
Appoint someone to make health care decisions for you if you cannot
2. Couple Pricing
Wills and Powers of Attorney – $289
These services have the same features as are available under Individual Pricing. The only difference is that it offers you two Wills and two powers of attorney, one for you and one for your spouse.
Is Epilogue safe?
With any website where you have to enter personal information and make payments, you should be cautious of security. Luckily, Epilogue is a safe and secure website to use.
The service uses Bcrypt technology to protect your password. It also uses encryption to ensure that your data remains safe from any prying eyes. In case that wasn't enough, your data is also backed up, so you don't lose anything.
Pros and Cons
As with all online services, Epilogue has its set of pros and cons. You can look through them below and decide if this is a service that suits your needs.
Pros
Create legally binding Wills in Canada
Easy and convenient way to make a Will
Ability to create a Will from the comfort of your own home
No lawyer needed
Affordable
Created by estate lawyers
Step-by-step guidance provided
Fast method of creating a Will
Cons
Wills generated by Epilogue cannot account for complex situations.
Currently available in Alberta, British Columbia, Manitoba, New Brunswick, Newfoundland and Labrador, Nova Scotia, Ontario, Saskatchewan and PEI.
Final Verdict
Epilogue is an online estate planning platform for the creation of Wills and Power of Attorney. Epilogue does not provide legal or any other professional advice such as those relating to tax or accounting. As I stated earlier, making a Will can be tedious. However, Epilogue, has simplified the process considerably thereby ensuring that the making of Wills and Power of Attorney can be done right from your couch. It is an excellent option for anyone looking for a convenient way to make a Will without having to spend too much money.